Tuesday, June 2nd, 2009
There she is, our new 2009 GMC Acadia. A few people have been asking about what it looks like, partially because the Acadia is only in its third year, so I thought I'd post a pictures of it. We did a huge amount of research before selecting this vehicle, so at some point I'll do a write-up about that process. Our short list consisted of the Subaru Tribeca, the Mazda CX-9, and the GMC Acadia. We purchased it from Northland Pontiac Buick GMC, and our salesperson – who was excellent to deal with – was Dave Sommerfeld. It was a near-perfect buying experience, one that I'll write about later. The Acadia was our final selection from the three vehicles, and here she is…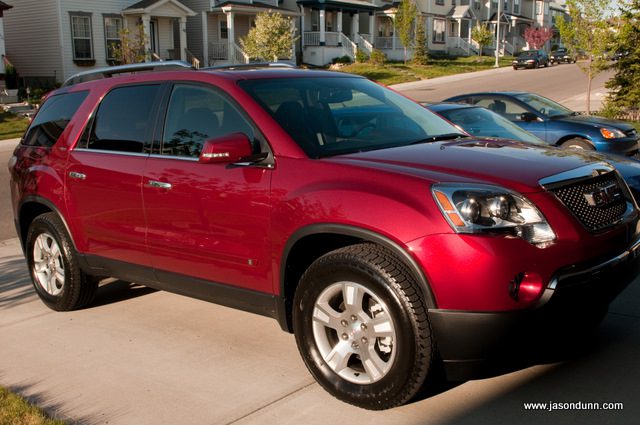 Ruby red – isn't she pretty?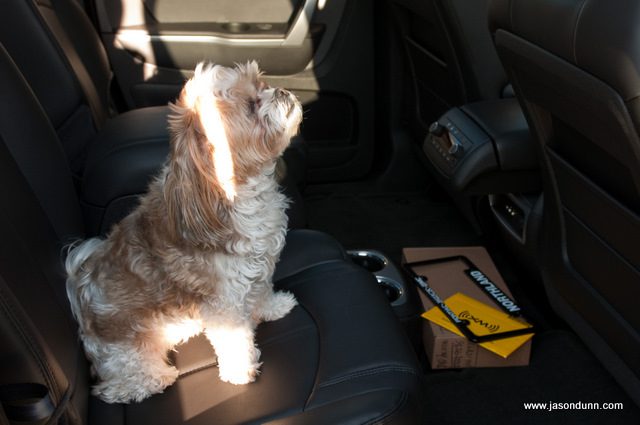 Keiko had to come check out the new car – she'll be travelling in it of course…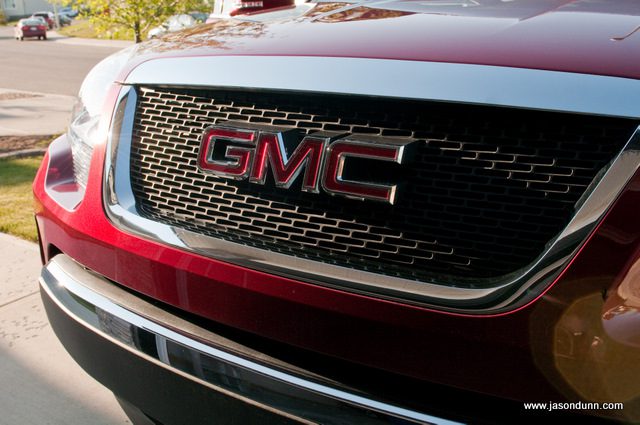 I never saw myself owning a GMC vehicle, or an SUV for that matter, but here we are…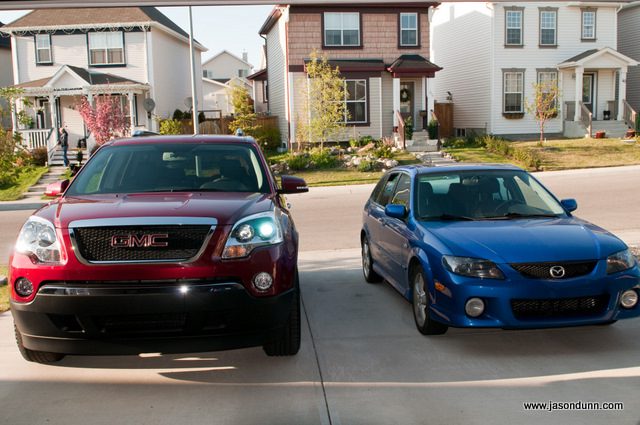 We'll be keeping the Mazda Protege 5 – and selling the Mini Cooper – but I thought it was funny to see how much bigger the Acadia is than the Protege…and the Protege is our "big" car compared to the Mini Cooper.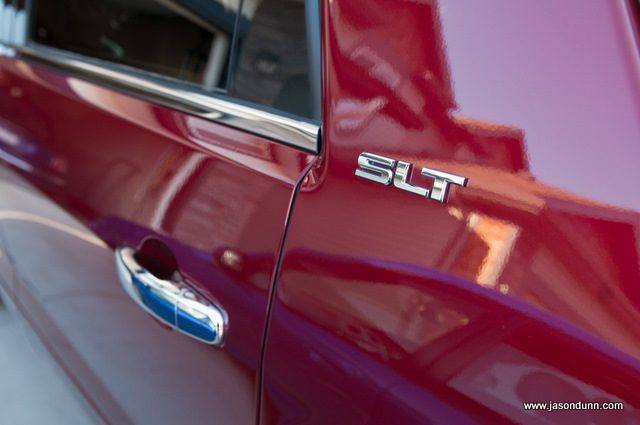 We took the mid-level package and did almost every upgrade. This car had every option we wanted on it except for the 110 volt power – the car with that feature was in Saskatchewan, and the dealer there refused to send it our way unless our dealer here would send them a truck…and with the GMC truck factory not churning out any new trucks until August, that wasn't going to happen. So we ended up getting one from Edmonton that lacked the 110 volt power, but had a trailer tow package (which we didn't care about very much, but the next owner might).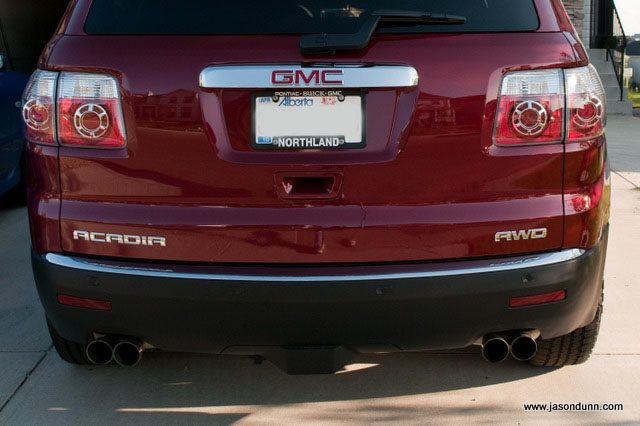 We got the all-wheel drive version. Dig the quad-exhaust…I think that looks cool!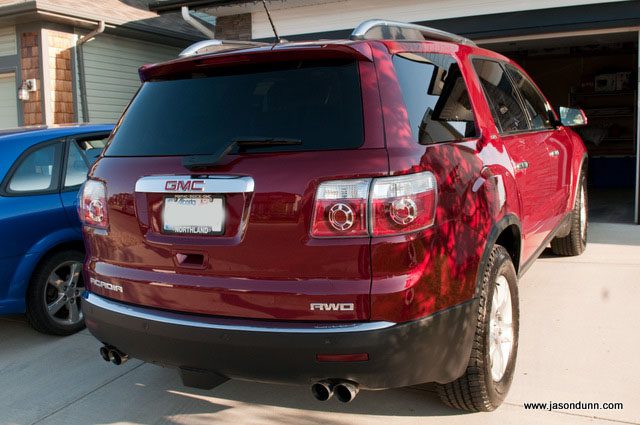 She's a big beast! I call her the Land Tank. We're breaking form and not getting a vanity plate.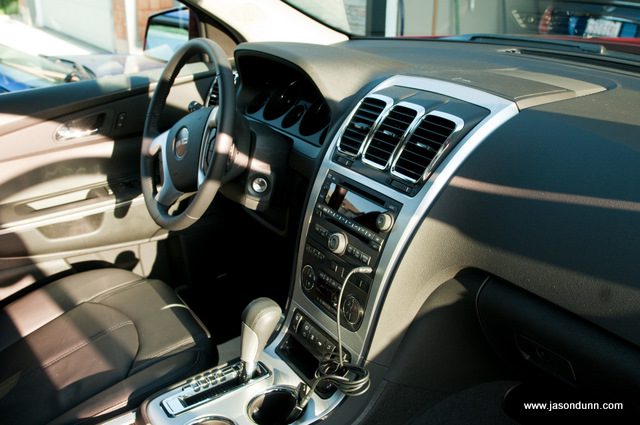 The inside is furnished nicely. Not quite as high-end as the twin model from Buick, but who wants wood paneling anyway? Not us. Definitely a technologically advanced vehicle – and pairing the audio system to my smartphone over Bluetooth was shocking easy to do. Yes, something involving Bluetooth that was easy. Who knew such a thing was possible!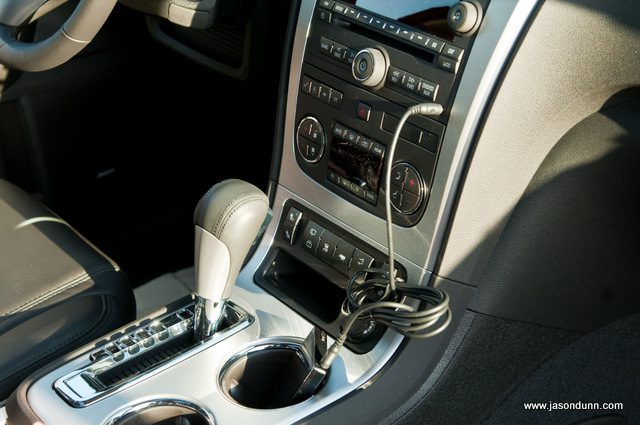 That's my Zune 120 connected to the auxillary audio input – the only Zune big enough to hold our entire music collection at once. I'm glad it has that input, but I'm very disappointed with GMC for putting it in such a stupid place – having it inside the console, and having the cigarette lighter inside the console to provide power, or better yet a USB port, is the right way to do it. As it stands now, I'm looking for a Zune cigarette power adaptor that will charge the Zune and hold it aloft…I've seen one for the iPod like that, but I have to find one for the Zune.