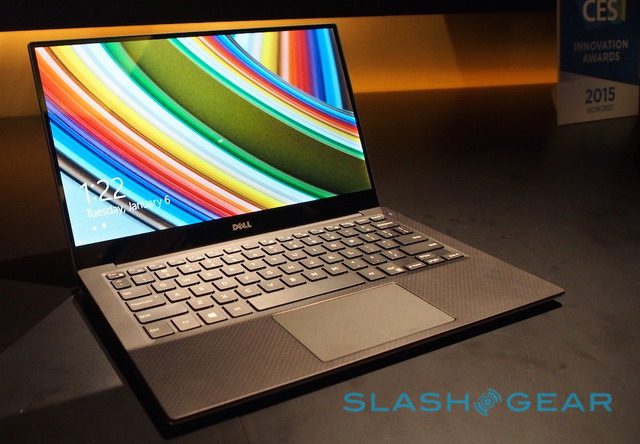 / photo courtesy of Slashgear /
I'm tremendously excited what Dell has done with the new XPS 13, announced at CES 2015 recently. Talk about some amazing hardware design! It's been a few years since I owned a Dell laptop – my last one was a Dell Vostro V13, which was a decent laptop for day to day work with a nice design, but ultimately had a very ho-hum screen, was underpowered, and had fairly poor battery life.
For the past three years, I've been using an HP Envy 14 Spectre – an audacious, premium design from HP that sadly was a one-off and not the first of a new line. Sure, they've carried the ENVY name forward, but none of them have been Spectres or been premium. The Envy 14 Spectre was, and is, a fast machine with a great design. The overall weight though makes it a hassle for travel, and the battery life isn't anything to write home about. I was particularly frustrated when, after ordering if the first week it came out, within a month of getting it Intel had announced new chips – HP decided to release this new product at the end of a chip cycle from Intel. This was right after I'd moved to the USA, and I frankly wasn't in the loop on Intel's roadmap. It's still a fast laptop for most things, but I'd have preferred to wait and get the newer generation of chip from Intel, all things being equal.
The new Dell XPS 13 comes with a Broadwell-U chip. I'd initially been excited about the Core M chips and the idea of a fanless design, but once I saw how performance-limited they were, I decided I needed to go for a Broadwell-U chip. Here's what's funny though: Broadwell was supposed to ship in products last year, and all the rumours point to Intel releasing Skylake midway this year. Skylake is a new chip design and promises significant advances over Broadwell…so by ordering this Dell XPS 13, am I setting myself up for another scenario where mere months after I get a new product there's already a new chipset? Could be. At least this time I know about it! Hopefully if Skylake products won't ship until Q3/Q4, I won't feel bad about snagging a Broadwell-U based system…as long as it rocks, that's all I care about.
Dell used to be the king of customization, but I find it ironic and sad that now that seems to be more Apple's game: I can order a Macbook Air with a Core i5 or i7 CPU, 4 GB or 8 GB of RAM, and a choice of 256 GB or 512 GB SSD. Dell has a few configs, but if you want a 512 GB SSD, there's only ONE config: the Core i7, 8 GB of RAM, and the QHD+ touchscreen display. I'd have been perfectly happy with the 1920 x 1080p non-touch display as that unit gets better battery life…somehow Dell decided not to let people pick that option. I'm feeling very iffy about Window 8.1's ability to handle a resolution that high. I've never liked how the Windows UI looks with high-dpi settings turned on, so I'm a bit concerned how well this display is going to work with my apps (and eyes).
After wasting two days playing telephone tag with Dell – their practice of needing to call you on the phone to verify your order is as old-fashioned and quaint as it is wasteful and inefficient – my laptop is finally in pre-production. I expect to have it in my hands by February 6th…can't wait!