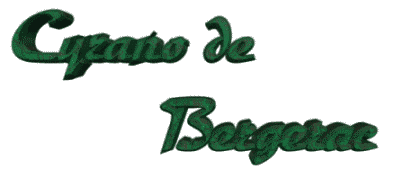 ABOUT THIS SITE
BACKGROUND
HISTORY OF THE PLAY
SUMMARY OF THE PLAY
EXCERPTS FROM THE PLAY
CYRANO AT THE MOVIES
CYRANO LINKS
LETTERS FROM CYRANO LOVERS!
DISCUSSION AREA
MULTIMEDIA AREA
BUY A CYRANO BOOK/MOVIE
READ THE 1898 CRITIQUE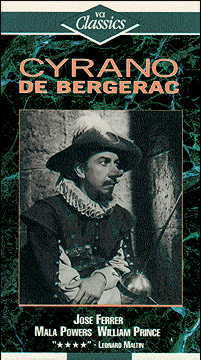 Cyrano de Begerac, like most good plays, has been made into numerous movies. The original movie came out in 1950, and garnered Jose Ferrer an Academy Award. This version of the play, by far, is the most true to Rostand's Cyrano. A must see!
Other versions followed, the latest being Gerard Depardieu in the 1990 version of "Cyrano de Bergerac", but this wasn't nearly the film that Jose Ferrer did. While it might be said that the 1990 Cyrano had more accurate costumes and dialog (with the 1950 version being somewhat on the campy side), Depardieu as Cyrano was somewhat lacking.
(aside: You wouldn't believe how much email I get on this - people seem to really like the Depardieu version!)
Although I initially thought they didn't "enhance" his nose, I've been told they did make it larger. And although I've had several people email me to say that his nose was large enough, I don't feel it was.
As minor as this might seem, the nose of Cyrano was the prime physical characteristic of the play. While Depardieu's nose is on the large side, one can hardly consider it to be the same as the "grotesque protuberance" that Cyrano possessed. Would children run away from Depardieu's nose? I think not!
Despite these drawbacks, after viewing the film again recently, I found myself enjoying the Depardieu version. While I don't think he quite captures the wit that Ferrer does, his passion and delivery of the lines is quite good. The Roxanne in this version is perhaps more true to the original text as well (I'm not sure how many blonds there were in France at that time, as the Ferrer version would suggest!)
A contemporary remake of this film can be found in the movie "Roxanne", starring Steve Martin and Darryl Hannah (for which Martin received a Golden Globe nomination). This movie was quite good, casting Martin as fireman CD Bales, Hannah as aspiring astronomy student Roxanne, and Rick Rossovich as Chris, a fellow fireman who is big in the brawn, but bereft in the brain. Martin also wrote the movie version, and his comic wit shines nicely in this film. Here is a short review of the film from a Steve Martin site that I found. Take a look!
"Comic genius Steve Martin delivers an incredible performance as an engaging small town fire chief who has only one tiny flaw - no, make that one HUGE flaw - his astonishingly long nose. Although he considers it no laughing matter, the hilarity never stops as C.D. Bales (Martin) contends with jerky nose jokes, a bumbling crew of firemen, and his secret love for gorgeous astronomy student Roxanne (Daryl Hannah). Unfortunately, she's attracted to fireman Chris (Rick Rossovich), who's tall on looks and short on conversation. And when C.D. agrees to coach the dumbstruck Chris in his pursuit of the fair maiden, this ticklish triangle dissolves into a hilarious series of rib-tickling romantic misadventures. A contemporary love story of mistaken identity and unrequited love, ROXANNE is an unforgettable comedy that Siskel & Ebert & The Movies calls 'A comic masterpiece.' "
Perhaps one of the best parts of the film is Martins re-working of the classic "nose jokes" from Cyrano. Observe...
The 25 nose jokes from the movie Roxanne
1. Obvious: "Excuse me, is that your nose, or did a bus park on your face?"
2. Meteorological: "Everybody take cover, she's going to blow!"
3. Fashionable: "You know, you could de-emphasize your nose if you wore something larger, like Wyoming."
4. Personal: "Well, here we are, just the three of us."
5. Punctual: "All right Dellman, your nose was on time, but you were fifteen minutes late."
6. Envious: "Ooh, I wish I were you, to be able to smell your own ear."
7. Naughty: "Pardon me sir, some of the ladies have asked if you wouldn't mind putting that thing away."
8. Philosophical: "You know, it's not the size of a nose that's important, it's what's in it what matters."
9. Humorous: "Laugh and the world laughs with you; sneeze and it's good-bye Seattle."
10. Commercial: "Hi, I'm Earl Scheib, and I can paint that nose fo Thirty-Nine Ninety-Five."
11. Polite: "Ah, would you mind not bobbing your head? The, ah,orchestra keeps changing tempo."
12. Melodic: (Everybody) "He's got the whole world.. in his nose."
13. Sympathetic: "Ooh, what happened, did your parents lose a bet with God?"
14. Complimentary: "You must love the little birdies to give them this to perch on."
15. Scientific: "Say, does that thing there influence the tides?"
16. Obscure: "Hoo, I'd hate to see the grindstone."
17. Enquiry: "When you stop and smell the flowers, are they afraid?"
18. French: "Sir, ze pigs have refused to find any more truffles until you leave."
19. Pornographic: "Finally, a man can satisfy two women at once."
20. Religious: "The Lord giveth, and he just kept on giving, didn't he?"
21. Disgusting: "Say, who mows your nose hair?"
22. Paranoid: "Keep that guy away from my cocaine."
23. Romantic: "It must be wonderful to wake up in the morning and smell the coffee ... in Brazil."
24. Appreciative: "Ooh how original, most people have their teeth capped."
25. Dirty: "Your name wouldn't be ... Dick, would it?"
NEXT