March 19th, 2007 Jason Dunn
Microsoft has been growing their Live services lately, pouring effort into creating a suite of online services that will entice Internet users to take advantage of their offerings for search, email, location-based services, and many others. And they're not just focusing on the desktop world: there are a rich assortment of Windows Mobile-based solutions for smartphones such as the Treo 750 and T-Mobile Dash. One such solution is Windows Live Search, software that recently came out of beta and is a free tool for finding things quickly and easily from your Windows Mobile smartphone (remember that Pocket PC Phone Edition devices are now called "smartphones").
Getting the Windows Live Search on your smartphone is easy: open up Internet Explorer Mobile and go to http://wls.live.com. You'll be presented with a Live Search page that offers a download for the United States and the UK. For the purpose of this article I'll be looking at the USA version. There's a Windows Mobile download link, and when you select it you'll have the choice between a Windows Mobile 5 download or a Windows Mobile 2003 and 2003 SE. The download is a 410 KB CAB file that should download in around 30 seconds over an EDGE connection (it will be faster if you have an EVDO or WiFi connection of course). The install takes around 400 KB of storage space, and since programs work faster when launched from main memory instead of storage cards, I'd suggest installing it to local memory since it's not too large. The program is a bit hefty when loaded – it takes 10 seconds to launch on my Treo 750, and uses around 2.5 MB of program memory to run. It does, however, have an Exit function on the menu, allowing you to shut down the program when you're finished with it to free up the RAM.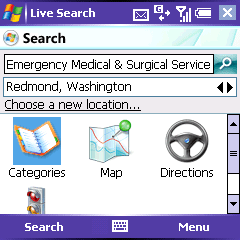 Once the program is loaded up, you have a few options: first, you select the location you'd like to search. Live Search has pre-set access to the big population centres in the USA by default: New York, Chicago, Boston, Atlanta, Miami, Seattle, and a few others. You can also search for any city you want, quickly sorted by geographical area. It's impressive how they optimized the selection for one-handed (stylus-free) use: you can select "Chose A New Location" with the d-pad (control pad) on your device, then "Chose City". It then switches to a list segmented into geographical zones around the United States: Midwest, Northwest, Northeast, Southwest, etc. You can drill down in the list by pressing right on the d-pad, or go back up if you press left. That means you can quickly go Northwest > Washington > 'R' Cities > Redmond and search Redmond, Washington. Equally impressive is the fact that once you've searched for a city this way, it adds it permanently to the "quick list" of cities, allowing you to access it again fast. Unfortunately there's no way to remove cities, so I imagine the list might get fairly long if you're adding new cities frequently.
Once you've selected your city, you have the option of searching based on categories, map, directions, or traffic.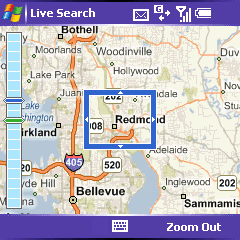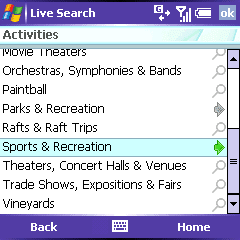 Selecting Map will load up an aerial view of the location, zoomed out to show the city and surrounding area. By pressing the center button on the smartphone's d-pad, it will put the program into zoom mode. A blue box will appear and the more you press the center button, the more it will zoom in. This is where you get to see perhaps the most impressive part of the technology behind Windows Live Search: the streaming map images. Instead of having to wait for the map to completely load before you can see it, the map loads in small segments – anywhere from four to twelve segments will load on the screen.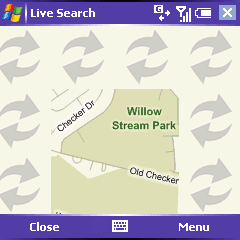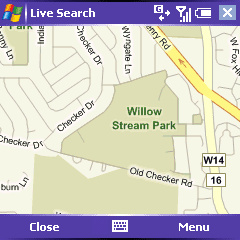 This means you can instantly start to see what you're looking for, and over the next few seconds the screen fills up further, and the image sharpens up as well. When you press left, right, up or down with the d-pad, your view of the map will change, and it will update in a similar fashion. This allows you to quickly move around the map, and there's an option for full-screen mode for an even more immersive experience.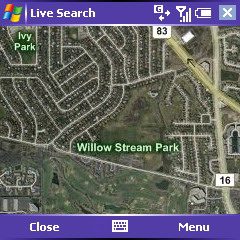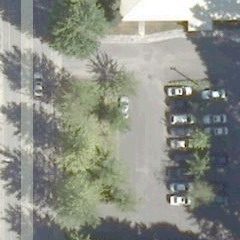 You can toggle back and forth between the aerial view, which is made up of lines like a traditional map, or the satellite view which is a aerial photograph. The level of detail in areas that are fully captured by the satellites is impressive – in the example above you can very nearly discern the make and model of the vehicles in the parking lot. While details like that aren't always necessary for finding a coffee shop, being able to really see the place you're headed is a nice touch.
The Directions function is fairly self-explanatory: you can select a start and end location, and the software will give you a complete route with turn by turn directions. It lacks the audible prompts or re-routing features that a dedicated GPS solution has, so it's most useful if you have someone helping you navigate and can read the driving directions to you. Also supported is traffic reporting – assuming that you live in a location that has traffic data the Live Search application can tap into. I used it looking at the Seattle area and it shows you the level of traffic using a colour-coded scale: green for light traffic, yellow for medium traffic, and red for heavy/grid-locked traffic. If you have a regular commute through a high-traffic area, this feature is a real sanity-saver.
If you live outside the United States or UK, you'll still find the application to be useful – the maps (both street and aerial photography) are still available, though the directory of businesses won't be there. I used this product myself while driving in the countryside around my home city of Calgary, Alberta and the basic map data was enough to allow me to navigate to my destination. This application isn't meant to replace a full GPS navigation solution, rather, it's meant to supplement a GPS solution by offering the directory look-up data and by being a portable, all-in-one search solution.
Ultimately much of the functionality in Live Search is limited by the speed of your smartphone's data connection. If it has GPRS/EDGE, the basic text look-ups are fast enough, but the aerial satellite data takes a while to load – it works, but it requires more patience. On the other hand, if you have a fast EVDO or WiFi connection, you can zoom around the maps quickly without much delay in loading. Windows Live Search is one of the best-designed applications I've seen for the Windows Mobile platform in terms of being optimized for fast, one-handed use: exactly the type of scenario you'll likely be in if you're looking for something while on the go. If you search with this application, the odds are very good that you'll find what you're looking for. This is a must-have application that has a lot of room for growth, and after meeting with members of the team that designed this application, I'm excited about the direction they're taking it.
Entry Filed under: Software