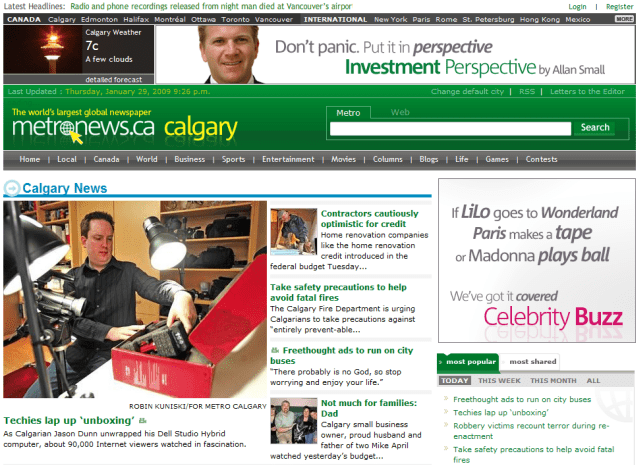 Another unboxing article was published this week, in a local paper called Metro Calgary. It's one of those free papers that you'll see outside grocery stores, transit stops, etc. The article was published in the paper on Thursday the 29th of January, and the same article was featured on their home page (pictured above). The photographer, Robin Kuniski, took a few photos like the above image – pretty standard stuff. But he brought an empty box with him and had a cool idea to put his camera in the bottom of the box and have me open it from the top – I saw a quite preview of the results and the photos looked great! Sadly, Metro Calgary ran with the above image instead, complete with me looking down creating a double chin. Gee, thanks Metro Calgary.
The article itself is kind of strange – it seems that the journalist that interviewed me, Jennifer Hilliker, didn't really understand how YouTube works. The first line, "As Calgarian Jason Dunn unwrapped his Dell Studio Hybrid computer, about 90,000 Internet viewers watched in fascination", makes it sound like YouTube is a real-time streaming video site. That Dell video has had nearly 90,000 views, yes, but when I opened the box the only one watching it was me. And check out this last paragraph:
"Ryan Felgate, blogger for techvibes.com said that people have to be careful, as he suspects some corporations launch "unboxing" videos under the guise of a regular person. "I'm not sure if a YouTube video could be an authentic depiction of a product," Felgate said."
Felgate makes it sound like none of the unboxing videos on YouTube are legitimate, which is ridiculous. I can't imagine that's what he really thinks, because the awkward quote isn't even proper English – maybe he meant "I'm not sure if all YouTube videos are authentic depictions of a product". I'll drop him a line and ask for clarification, because it's quite a broad condemnation of anyone that does unboxing videos – and I find it hard to believe that's what he really meant.
I also couldn't help but notice that Hilliker URL-dropped the Techvibes site, but not one of my sites, and I'm the topic of the article. I'm stunned at the lack of willingness to mention the name or URL of my site – I've dealt with more than half a dozen different journalists in the past three weeks, and thus far none of them have told any of their readers/viewers where they can actually find me online. More on that later.