It's getting close to April, when Ashley's lease on the Mini Cooper will be up, so we've started the process of looking for a new vehicle.  Because I received so many helpful comments the last time I posted about shopping for a new car (really not a subject I cover much), I thought I'd try again. This past Saturday we spent a few hours at a local Calgary Nissan dealership, and a local Mitsubishi dealership. We test drove three cars: a 2008 Nissan Altima 3.5 SE Coupe, a 2008 Mitsubishi Eclipse GT-P, and a 2008 Mitsubishi Lancer GTS.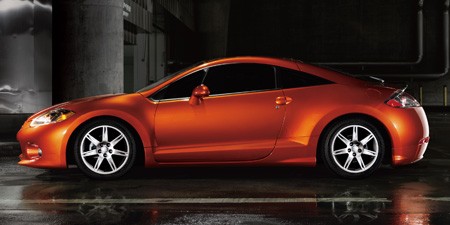 We test drove the Eclipse first (pictured above), and it was an interesting experience – I'd never driven a sports car (or a sports-like car for those of you who might not consider the Eclipse a true sports car) before, so I wasn't used to being to low to the ground and feeling so far back. The car had a good amount of power, and it handled well – I had a hard time adapting to the lack of rear/side visibility. They didn't have an automatic transmission Eclipse on the lot, so we test drove the Spyder (the convertible) which of course had reduced rear-view window visibility. The interior felt cramped, which is pretty much what I was expecting.
Next we test drove the Lancer, and I was disappointed by it. Although the engine and handling was what I expected for a car at that price point, the interior felt and looked cheaper than I was expecting – fully loaded, it's in the same price realm as a fully-loaded Mazda 3, so I was expecting something similar. It was taken off the list pretty quickly, which is really unfortunate. I might not have given it a fair shake though – one thing I disliked about all three test drives we did was that the salesperson came with us. In my previous car-shopping experiences, I've never had that happen – I've given them my driver's license to copy, I think once a credit card, and they handed me the keys. Having a salesperson in the back of the car makes me feel like Ashley and I can't talk honestly about what we think of the car. Both salespeople were certainly very nice and easy to talk to, so this is no reflection on them, it's just a feeling I have.
Next we went to a Nissan Calgary dealership and test drove the Nissan Altima 3.5 SE Coup – what a car! Ashley and I were both quite impressed with the handling, the power (oh what power) and the quality and spaciousness of the interior. Road noise was also very low – it felt a lot like a Saab in terms of road noise and interior spaciousness, but has the exterior look of a sports car. It's got a lot of nice features, including Bluetooth, an MP3-compatible deck, and an auxiliary line-in on the stereo. Though I can't for the life of me figure out why they wouldn't put it inside the main console and provide power as well (USB would be nice). The Mazda 3 designers seem to grasp that people want to carry their MP3 players in the car with them, but they don't want to have wires dangling about. The Nissan designers don't seem to grasp that. On the other hand, if I want to burn six CDs worth of MP3s I can carry about 42 albums worth of content in the car, which is pushing 500 songs.
I wasn't expecting to like the Nissan Altima Coup so much, but it quickly became #1 on our short list. The biggest problem? Swallowing the $36K price tag – which works out to around $39K after all the added charges. I've always tried to keep my car purchases under $30K because I don't attach my self-esteem to the type of car I drive and I think it's silly to spend so much on a hunk of steel and plastic to get you from point A to point B. But this will be a car we buy and keep for a long time, not lease, so it might make more sense to buy a higher-quality vehicle that we'll get a lot of use out of. The other problem is that Ashley and I both have a strange need to buy things new, rather than used – which is an expensive habit when you're talking about cars. Though the fact that this is the first year for the Altima Coup makes it more or less impossible to buy used makes me feel just a bit better. 😉
So, any opinions on the Nissan Altima Coup?