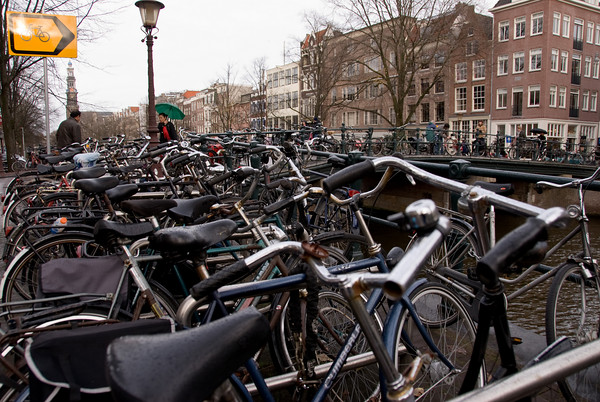 Welcome to the land of tulips, wooden clogs, marijuana, and bicycles!
I'm writing this from the Netherlands! Ashley and I flew into Amsterdam on Saturday afternoon and it's now Monday morning, nearly 9am, local time. We're just about to head out for a day-long tour of the countryside. The weather here has sucked unfortunately: yesterday (Sunday) was our first full day here, and we spend it walking around freezing our toes off and getting quite wet. Normally cold weather doesn't bother me much, but the wind here is relentless.The pictures I've taken so far are up in a gallery.
Travel lessons learned so far? Always have your passport on you if you want to use your credit card: most stores will not accept a credit card without your passport. Some restaurants and most taxi cabs will not accept credit cards, because it cuts into their profit margin (more on that later). Customer service as we understand it in North America doesn't really apply here. A 43 watt flat iron will not work, even when connected to a 2000 watt converter. Always take Jet Lag pills – adjusting to the local time is a killer (last night was the longest night of my life).
More fun later – Mobius, the Microsoft conference and the reason I'm actually here in Amsterdam, is coming up in a few days.