[I'm now at home, and didn't manage to get this published while in New York, but I figured since I'd written it I might as well publish it!]
Preparation: it's been about a year since I've had a flight last over 90 minutes, so right at the last minute I realized I should have loaded up some DVDs or TV shows to watch on the 4.5 hour flight. Managed to get one ripped DVD onto a USB flash drive before I headed out the door, but that's it. My wonderful wife got my suitcase packed and off to the airport.
Airport Check-In: Air Canada's slogan should be "Giving you the longest lines since 1959". They're the worst when it comes to getting people checked in fast. They've added electronic check-in, but guess where the machines are located? About 20 people deep into the line for the human-powered check-in. Why wouldn't they be outside the main line? And when you use the machine, people pass you, so if the machine doesn't work for you, you've lost your place in line. The process was very slow, but it did manage to get me checked in ok. I took my printed boarding pass and went through security, where my D200 camera in my carry-on bag managed to get flagged for a bag search. "Keep smiling even if they're looking at your underwear" is my motto at security.
Airport Waiting: I think all airports should offer free WiFi. They charge so many damn taxes, the least they could do is provide something useful like WiFi. The Calgary airport has WiFi powered by Telus, our local overcharging-happy communications company, and it's pretty expensive so I skipped it. I ate some fast-food lunch because the much healthier Jugo Juice is on the other side of the security glass. It's lame that once you get past security you have to be "partitioned" off.
Technology On The Plane: I don't know what kind of Air Canada plane I was flying on (it's either a B777 or a refurbished Beoing 767), but it looked and felt quite new – and it actually had some very cool technological features. A first for me on a North American flight was having laptop power. And we're not talking some funky airline-only power plug (which is what they normally are), we're talking a simple three-prong power jack that any North American laptop power supply can connect to. The only problem is that it's tucked away below the seat, so I had to practically get down on the floor in order to plug my laptop in. There's also only one port, so I guess if two people had laptops you'd have to take turns. It was mostly for fun anyway, because my Dell XPS M1330 with the extended battery lasts about five hours (I still miss the 10+ hour battery life of my Fujitsu P7010). Strangely enough they're still using the old dual-prong audio plugs – you can use regular headphones if you don't connect the jack all the way and find the stereo connection, but a slight touch will put the headphones back to mono. I have an adaptor but never remember to bring it.
The plane also had a 7 inch wide-ratio LCD screen on the back of every seat. It had a touch-screen interface, so I could access movies, TV shows, music, etc. Screen quality wasn't that good, but it resisted sunlight wash-out quite well. I watched most of Die Hard 4, but the experience was less impressive than it should have been for two reasons: the movie was in a 4:3 ratio, not a wide-screen ratio, and even though I was watching the English version (I confirmed it twice) there were Chinese sub-titles through the whole movie. It also looked overly compressed and mushy. The last cool tech feature was a USB port to the left of the screen, used for recharging any USB-based device (MP3 player, PDA, phone, etc.). That's an awesome feature that all planes should have – kudos to Air Canada for having it! The only thing missing was connectivity, although sometimes it's nice to be disconnected for a while. If all planes I flew on had the technology features that this flight had, flying would be much nicer.
Service On The Plane: As impressive as the technology was, the flight was Air Canada all the way. In-flight drinks were served a couple of times, but even on an almost five-hour flight, they served no food. Not even a 25 cent bag of pretzels! They will sell you food, but I've always felt it was a rip-off to pay for an expensive flight and not have any food included. Charge $5 more for the ticket and give everyone some basic food. No one will remember saving $5 on a ticket, but they will remember being hungry on a flight. Buying food on a plane has the psychological barrier of seeming expensive, and it's a hassle to carry cash (they always ask for exact change). At least the flight attendants were nice.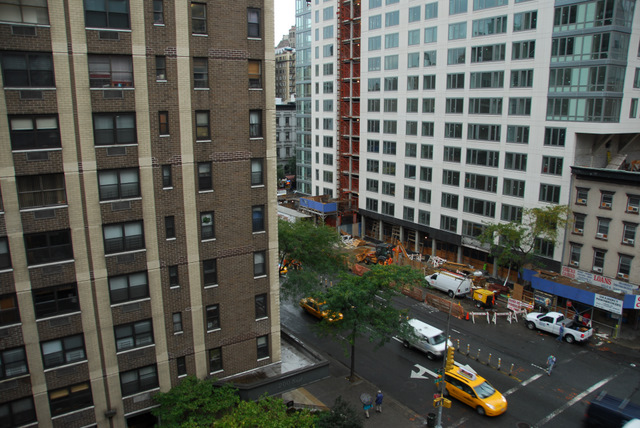 From Airport to Hotel: Because of the looming taxi strike, I called a town car company named Carmel and booked a car to and from the airport in advance. I had only my carry-on bags, so I was ready for car pick-up pretty much as soon as I got off the plane. They told me where to stand so the car would find me, but after 15 minutes of waiting (they said 5 minutes) I phoned to ask where my car was. While I was on hold with Carmel my town car called and asked where I was. I said right where they told me to be and he said "Oh, ok, I'll be right there". A few minutes later the driver arrives, and it's a blue mini-van. Town car my ass. 40 minutes later I arrived at my hotel. I now remember what a noisy city New York is – you can't go 10 seconds without hearing someone honking at someone else. It's sure a city that feels alive though!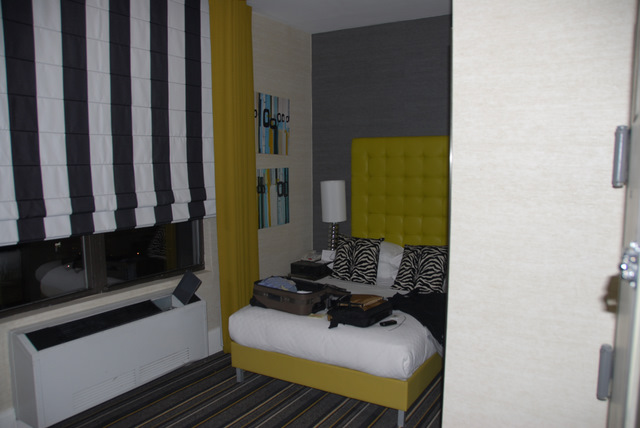 The Initial Hotel Experience: I stayed at a place called The Marcel. Booking a hotel in New York is an expensive proposition (the Marcel was $658 USD with taxes for only two nights), but the fact that Microsoft was partially funding my trip made it a bit easier. The Marcel wasn't too far away from the Microsoft event I was going to, and they had WiFi – as long as I have a bed, a shower, and Internet connectivity, I'm set. Walking into the hotel room, I was struck by two things: how small it was, and how much I liked the décor. The room felt hot and stale, so I turned up the AC and unpacked a little. Within 20 minutes my friend Janak (Contributing Editor over at Pocket PC Thoughts) was in the lobby waiting to meet me for dinner.
The French Dinner Experience: Janak and I walked around the area for a while, ending up in Union Square (I think). I had tried to arrange a Thoughts Media volunteer dinner with the people who are in New York (Ed Hansberry, Janak Parekh, Jeremy Charette, Vincent Ferarri, Steven Cedrone, and Adam Krebs) but in the end only Jeremy (Digital Media Thoughts Contributing Editor) and Janak were able to make it. We had a great dinner at a local French restaurant – the weather was surprisingly hot and humid, so everything felt muggy. It was the first time I'd met Jeremy in person, and after a couple of years working with him virtually, it was great to interact with him in meatspace (there's an old term for all you sci-fi lovers out there). I've met Janak several times in the past, but it had been two years since I'd seen him last so it was good to catch up. We talked about technology, jobs, life, Thoughts Media, and many other things – it was great.
The First-Night Hotel Experience: Back at The Marcel, I was disappointed when I came into the room and it felt just as hot and muggy as it did before. I had left the air conditioner on, hadn't I? Yes, it was still running, but it was so weak it wasn't doing anything to cool off the room. I opened a window but the air outside was still hot and humid. I thought it was strange that the door to the bathroom wouldn't close all the way because it was off-kilter in the frame. I distracted myself by connecting to the $9.95 a day WiFi access (you'd think for $329 USD a night I'd get free WiFi) and while it worked, it was slow. Really slow. Feels-like-dial-up slow. Check out the sluggish speed:
I got a chance to test out the remote log-in features of Windows Home Server for the first time, and that was just killer – I could remote desktop to any PC on my network that was turned on, download and upload files, and do several other things. I tried downloading a DVD from home, but was only getting 20 KB/s download…and I know my computer at home should be able to upload at around 100 KB/s. The WiFi at The Marcel just sucked. I crawled into bed and prayed for sleep but at 3 am I was still awake. The bed was too short for me, so my feet were over the edge of the bed. The hot, muggy air in the room wasn't helping, but the real problem was the road noise.
New York is the noisiest city I've ever been to in my life. I'm not exaggerating in saying that every 10 minutes there was some sort of emergency vehicle blazing down the street outside my window, sirens blazing. And oh do New Yorkers ever love their car horns! Five seconds couldn't go by without someone leaning on their horn, or doing the rapid-fire machine gun horn method. That type of noise might make the city feel vibrant and alive during the day, but at night when you're trying to sleep, it's just irritating. The Marcel's windows were thin, single-paned glass with sealing that looked like it was from 1921. All the road noise leaked into my room, even with the curtains closed. By 4 am I was stuffing Kleenex in my ears and pondering smashing my head into the wall to force myself into unconsciousness. I finally gained a few fitful hours of sleep, but felt like I'd died and been re-heated in a microwave when I woke up.
And then day two started. 😉