On Thursday night I went and saw Nickelback play live (thanks for bringing me along Nate!), with Daughtry as the opening band (along with Puddle of Mud and a band from southern Alberta called State of Shock). We missed the first band (State of Shock), and caught the last few Puddle of Mud songs – they were ok, but nothing special. I was really excited about seeing Daughtry live, because I'm a big fan of his debut CD. I never watched him on American Idol, I just heard the first single and thought it was great. He didn't disappoint – his band played for about 45 minutes or so, and put on a great show. Chris' voice was superb, and the band was insanely tight – it was like listening to the CD, only better. About the only complaint I had was that it was so incredibly loud it was hard to appreciate the nuances they were tossing into the songs. I'd definitely see Daughtry again if they came back on their own tour. Nickelback was excellent as well – I caught them last year, and they always put on a good show. It does get very tiresome though to hear them talk non-stop about smoking pot and drinking beer though – nothing changed from their last concert. Musically they were great, and I was especially impressed with Ryan Peake, the guitarist in the band. His vocals were super tight – I never quite realized how often I was hearing him sing on the CD until watching him live and seeing him back Chad Kroeger's vocals. He also sang lead on the song "Saturday Night" and rocked it out good.
I gambled and took along my small camera (Canon SD800) because the past couple of concerts I've been to I've seen countless people taking photos and videos, so the old "no cameras" rule doesn't seem to apply any more. The tickets said "No Cameras" but after watching people around me at the show take picture after picture, with flash, I figured I'd give it a try myself. Not surprisingly, shooting a stage that varies between dimly lit and freakishly bright with a point and shoot 3x optical zoom camera is somewhat of a challenge. Here's the best photo I could manage: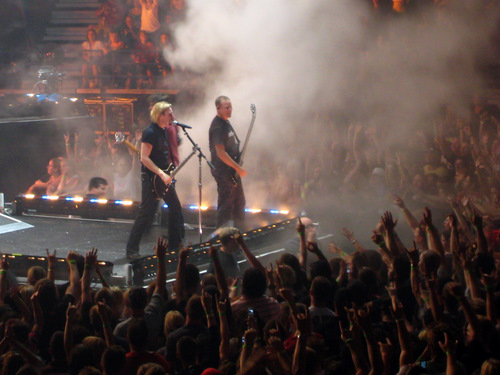 Yeah, exactly. I thought I'd have better luck with videos, so I ended up taking quite a few – but it was mostly in vain, because the microphone on the Canon SD800 can't cope with extremely loud noises and most of what I recorded ended up being distorted audio mixed with vaguely musical sounds. Here are three clips that turned out somewhat decently: 50 seconds of a drum solo, a clip of the crowd really getting into the song "Too Bad", and the big-pyro-explosion ending of the concert.
EDIT: It's really pathetic that the latest version of WordPress still maims embedded video code. Don't the developers USE their own product?  I added links above since embedded the videos broke the template.