Things are blowing up with Review Me, the site I mentioned in a previous post. It seems that there was some sort of loophole (if you can believe the Review Me spokesperson) that allowed people that didn't actually own a site to submit said site for whoring out inclusion in Review Me. The full story is on Consumerist; it's worth checking out. The real deal here is that from an SEO (Search Engine Optimization) point of view, this is a new form of "organic content". Rather than the traditional approach of contacting bloggers/media and asking if they'd like to review the product, the companies involved are opting to simply buy the attention of the bloggers. The bloggers might claim that the actual outcome of the review isn't tainted by the money, but stop and think about this for a minute: if the blogger writes an honest and scathing review, what are the odds that he'll be selected by another company to write a review if his last one was anything less than positive? Someone with money to spend is looking to buy good commentary, period.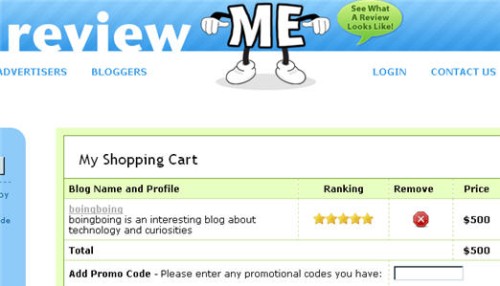 Because of this story, I spent a minute looking through nine pages of results for the word "thought" just making sure that none of my Web properties were showing up there. None word. Thoughts Media commentary isn't for sale.
The problem isn't that people are getting paid to write reviews, the problem is that they're not disclosing it properly. Look at one of the sample reviews that they show off: there's no indication that it's a paid advertisement until the very end, the last sentence. That's completely unethical, and if I had read that thinking it was the author's real opinion and saw that at the end, it would make me doubt the sincerity of what I had just read. It would also make me doubt the integrity of the entire blog. Based on the number of blogs that have signed up for Review Me, it seems there's more than a few people willing to prostrate themselves at the altar of Review Me.
Is it possible to get paid for something and still be objective? Yes. I don't consider myself a journalist and do not follow the strict code of ethics that journalists are expected to follow – I routinely get invited to events (Mobius, Featured Communities) where my flight/hotel/whatever is covered. The things I write about those events are my honest, un-biased opinions. But I never assume that everyone is going to believe that, so I'm always clear to state up front that I was invited down to those events, and explain what was paid for – that gives the reader the information they need to filter my comments however they wish. I also reveal what I was given at those events. It's all about the disclosure. Until Review Me requires that bloggers have a statement of disclosure in the very first part of the "review" (and the blogger doesn't get paid until that happens), this is nothing more than bloggers whoring themselves out to companies looking for publicity and tricking their readers into thinking their "reviews" are something they are not.
I find myself thinking that I can't trust the opinions of any Web site or blogger that is partnered with Review Me, and I also would think twice about reviewing a product from any company that was playing bloggers to review it – because people might think that my review was paid for like the other reviews. Companies using the services of Review Me may be shooting themselves in the foot with all legitimate media…