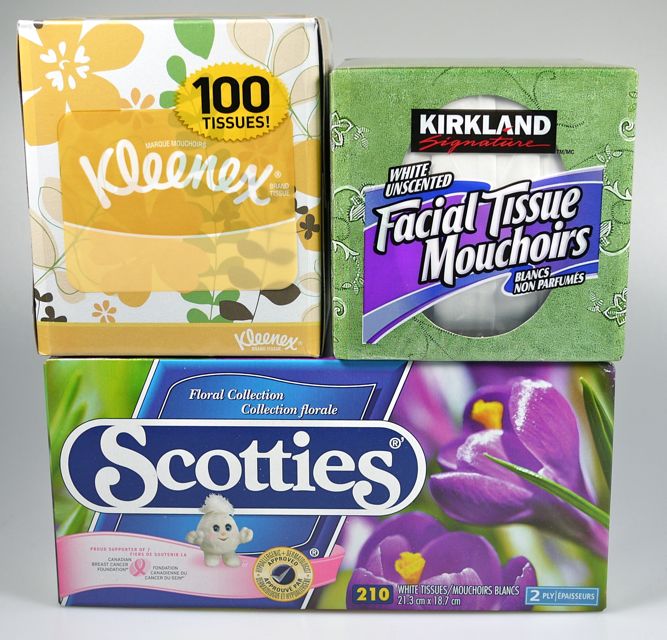 Know what the difference is between the three boxes of tissues above? Before this week, I'd have probably shrugged and said "Not much". My eyes were opened to a certain type of consumerism; someone smarter than me probably has a name for it, but for the lack of a better term I'll call it "Mindless Re-Purchasing". If you're anything like me, once you start buying a certain brand and package of product, you'll pretty much keep it up forever, without stopping to think if there's something better or less expensive.
For the nine years that we've been living in our current house, we've been buying the small box-style of tissues in the top row above – I think for the sole reason that we bought these cool Japanese Kanji-style tissue covers back in 2001. We never thought about it until we had trouble finding those style of tissue boxes at Costco. We purchased a few individual packages of Kleenex brand tissues at a local store, and I was shocked by how expensive they were. When we found a local Costco that had the Kirkland brand in stock, I compared the prices of the two smaller style boxes to the standard-sized Scotties brand that Costco was also selling. The difference in cost was surprising! Here's how it broke down:
Kleenex Tissues: Sold one box at a time, 100 tissues, for $2.99 per package
Kirkland Signature Tissues: Sold in packs of 12, 100 tissues, works out to $1.29 per package
Scotties Tissues: Sold in packs of 10, 210 tissues, works out to $1.37 per package
If we take those prices and make them all the same in terms of the number of tissues in each box, the difference is quite shocking: the Scotties tissues are about 66 cents per box. 66 cents versus $1.29 or $2.99 if you're not a Costco shopper and buy them one at a time. Multiply that by six boxes of tissues being used in my house, each lasting perhaps a month or so (averaged out), and you end up with $47.52 per year using the Scotties brand, $92.88 using the Kirkland Signature brand, and $215.28 using the Kleenex brand. Take those numbers and multiply them by the nine years we've been in our house…and you begin to see that even a seemingly insignificant choice in what you buy can add up to a surprisingly significant amount of money over time.
I'm not saying that switching from one brand or size of tissues is going to amount to much in the short term, but this exercise in examining my own style of purchasing has taught me a valuable lesson: every so often, take stock of how you spend your money, and see if there are better choices that you can be making.