As I transition from my old life to my new life – that sounds so dramatic, doesn't it? – I'm letting certain domains lapse and taking projects from an "archived on their own domain" state to a "archived on this site" state. I think the Internet is one of the greatest made-made creations there is, and I hate to see any of the information shared on it – no matter how trivial – be obliterated.
I'm especially thankful to the creators of HTTrack Website Copier for making a tool that allows people like me to take our work and archive a whole domain's worth to a single folder. Comments get lost in the case of a WordPress blog, which is a shame, but it's a small price to pay for the ability to archive an entire site.
I won't pretend that archiving the site below is anything other than an ego trip of wanting to remember the work I did in years past, but as someone who has a passion for keeping digital memories of all sorts, this is something I'd been planning for a while.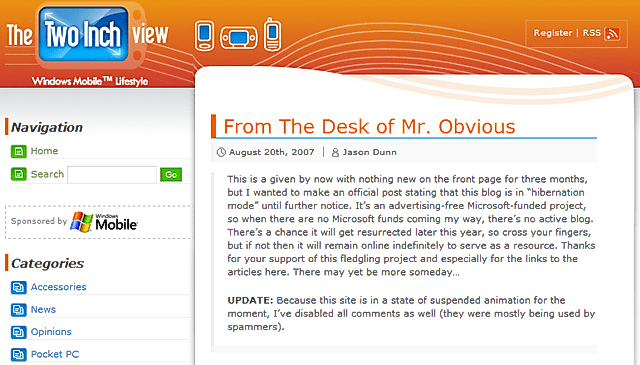 The Two Inch View was a Web site I created under contract for Microsoft. This was back in the heady days of Pocket PCs, Smartphones (note the capital "S" on that), and Portable Media Centers (a.k.a PMCs). A contact of mine at Microsoft wanted an "instant content portal", so I created one. It was all real content, written by me, but it was created to support specific marketing pushes – each month I'd suggest topics for them, and we'd decide what would get written about. It was a fun little sandbox to play in, different from Pocket PC Thoughts and my other sites.
The amazing WordPress theme was designed by my friend, Fabrizio Fiandanese, and I recall getting several messages a month asking where I got the WordPress theme from, whether or not it was for sale, etc. It was a beautiful Web site for its time (and still is).
In my current role for HTC and dealing with vendors, I kind of chuckle at some of the ways I thought back when I did this project…if only I knew then what I know now! Enough talk, into the archives it goes…