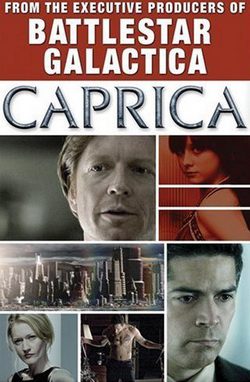 Amazon.ca delivered this DVD to me yesterday, so I eagerly watched it last night with Ashley. If you haven't heard yet, it's the premiere episode of the new TV series Caprica, released in DVD format prior to the launch of the TV show (which happens in early 2010).  I didn't really have much expectation going into it – it's a completely different set of actors, a completely different storyline, and while the Executive Producers of Battlestar Galactica are involved, all in all it's a different beast than BSG is. The DVD paints a rich back-story to BSG – we get to see some of what the civilization was like before the events that start off BSG. Looks like it was still shot in and around Vancouver though.
There's a lot to like with Caprica – the acting is solid, the storyline is compelling, and the special effects are top-notch. The CG robotics in particular are extremely well-done – I haven't seen realism like that to date. Being straight to DVD, they get to add things that a cable TV show can't have – namely, nudity. It was almost comical how they used it as a part of the intro to a certain location every time, but it's not so gratuitous as to be distracting.
It will be interesting to watch Caprica as it goes to television – will it be able to maintain itself? BSG kicked off with such a huge bang – the annihilation of the human race – that it was able to coast on the shock of that for many an episode. Not in a lazy way mind you; they built on it very effectively. Caprica has no such event, so they have to rely on their own plot elements to move the story forward. With this 90 minute direct-to-DVD movie, Caprica is off to a good start.