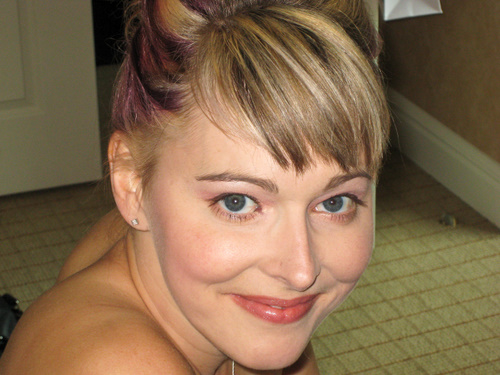 [Crystal on her wedding day in July 2007]
I've written about my friend Crystal before, and she's not doing very well – the cancer is laying waste to her body. It's only a matter of time, and my heart feels heavy when I think of what she's going through. She's such a vibrant, fearless, loving person – and the world will be a lesser place when she's gone.
There's an opportunity to bring some light into her last days, however: Crystal, her husband Tony, and their seven-month old daughter Mattea have been nominated for a "Dream Baby Shower" in a contest a local radio station is running. There are $50K in prizes, including a $5000 Registered Education Saving Plan that will grow to $9000 by the time Mattea is 18 years old, $5200 worth of grocery gift cards spread out over a year, and bi-weekly house cleaning for a year. When Tony is on his own with Mattea, having food and house cleaning taken care of would be a burden off his shoulders.
Their profile with a brief backgrounder can be read for further details, and voting is done on this page. I'm sure the other contestants are wonderful people, but winning this contest is something that this family needs right now. I don't think I've ever made a request like this before online, but please forward this blog entry to others and vote as many times as you can (yes, you can vote an unlimited number of times) until the November 25th deadline. Thanks for your support – let's make this happen!
[A technical note for you geeks out there: the voting system doesn't block multiple votes via cookies or IP, so it seems designed to be a "repeat popularity contest". I was able to vote 50+ times in a matter of minutes by positioning my mouse cursor over the vote button, clicking it, using my previous page mouse button, then clicking again. Please, no automated scripts though, let's keep this fair – well, as fair as a voting system like this can be. I've also submitted this to Digg, so please vote for it there as well to get the issue more attention.]