Nothing needs to be said – just click play and be amazed.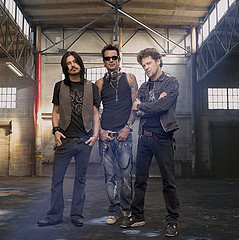 "The reality TV show is over for Rock Star Supernova. Now there's just the reality of turning a made-for-TV group into a real rock band. And judging from the foursome's opening show New Year's Eve, there's plenty of work left to do. Led by Toronto singer Lukas Rossi, Supernova delivered a wildly uneven show before some 2,000 at The Joint at the Hard Rock Hotel & Casino." – Full Article

Although it might be too soon to completely write off Supernova, from the moment I saw them perform their first original song – and felt that it wasn't as good as what Ryan Star did on his own – I realized that Supernova was probably never going to be as big or successful as the show they were supposedly the stars of. That feeling only solidified as they performed more and more of their original material – most of it less than inspired or entertaining. It's not easy to write a great song, but between the three of them they have many decades of experience in the music business, and if Gilby Clark can't come up with a good riff of melody then why form the band? I always thought that Ryan Star or Toby Rand would have been the type of talent the band needed (hell, Dilana would have given them something a bit different), but ultimately they chose Lukas – and I don't think he's got what it takes to help make Supernova stand out from the crowded marketplace of rock bands.