April 12th, 2007 Jason Dunn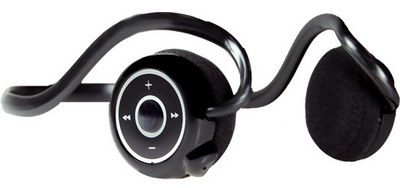 People with Windows Mobile devices – whether they be network-connected smartphones with the latest EVDO or UMTS wireless technology, or PDAs using 802.11b WiFi – all have one thing in common: they want to get rid of all the wires. I can recall the days when PDAs required connecting to a phone line or CAT5 Ethernet cable in order to get Internet access (yes, I am getting old). Now that we have the wireless networking part more or less nailed, there's just one more wire that's got to go: the cable connecting headphones for listening to music. Helium Digital's HDBT-700 Bluetooth headphones aim to do exactly that.
These over-the-ear headphones (weighing in at a light 50 grams) are Bluetooth 2.0 compliant, with a range of around 30 feet. It requires that the connected device supports A2DP or AVRCP Bluetooth profiles. Most modern Windows Mobile devices have support for both profiles, but you'll want to double-check with your device manufacturer to make sure. The HDBT-700 uses a rechargeable Lithium Ion battery, with an estimated run time of 6.5 hours. That battery estimate seems about right to me, though I never did any scientific testing. A built-in microphone is also included, featuring echo-cancellation and noise suppression – this allows you to use it with instant messaging programs for sending short voice clips, voice command software, and other functions. I tested it with Microsoft Voice Command and it worked really well – I was able to go from listening to music to checking my upcoming appointments, all without having to touch my smartphone.
Dual pairing, another feature, allows the headphones to be paired with two devices: for most users this will be a mobile phone and an audio player of some sort. Unfortunately, since most digital audio players lack Bluetooth, most people will end up partnering with their mobile phones. Windows Mobile phones – when combined with a large storage card – make excellent digital audio and video players, especially when combined with some of the great third-party software out there today.
All of the controls for HDBT-700's are on the right earpiece: next and previous allow you to go forward and backward, skipping songs quickly. There are plus (+) and minus (-) buttons as well – serving as a volume up/down in most applications. The center button functions as the play/pause button in Windows Media Player 10 Mobile. Pressing and holding the button is how you turn the headphones on, off, and initiate the Bluetooth pairing process. The pairing process with my Windows Mobile 5-based T-Mobil Dash was painless: I put the HDBT-700 headphones in pairing mode by pressing and holding the power button until it started to blink in alternating a red and blue flashing light pattern. Then on the smartphone I initiated a search for new Bluetooth devices – after a few seconds it found the headphones and after authenticating with the passkey (four zeros) the pairing was complete. Whenever Bluetooth on the smartphone is turned on, and the headphones are powered up, the connection is made automatically. The entire process is quite seamless.
So how do the Helium headphones sound? It really depends on what you're used to – in my case, my day to day listening headphones are Ultimate Ears super.fi 5's – small, in-ear headphones that block out 90% of outside sound and boast a dual-driver design that delivers superb sound and great bottom-end. But they're also $250 USD and come with an incredibly irritating cable that never seems to go straight. It's unfair to compare the HDBT-700's to headphones like the super.fi 5's, because they're completely different form-factors. Clearly, anyone who wants the ultimate in sound fidelity isn't going to go for the over-the-ears headphones – the HDBT-700's appeal to a different type of person, someone who's willing to accept less than great audio quality but gains all the benefits that Bluetooth headphones provide.
So with that proviso out of the way, we return to the question of how they sound: the answer is, pretty good, but it also depends on what kind of smartphone you have. I tested the headphones on two Windows Mobile 5 devices: a T-Mobile Dash, and a Treo 750. The results were interesting – on the T-Mobile Dash, I could hear mild distortion and static in every song (kind of like a radio being not quite locked into the right station), but only when the singing started, meaning it's likely an audio frequency issue. On the Treo 750, the audio quality was just fine – there wasn't any static at all. This is a frustrating issue of course, because no one wants to buy a new set of headphones and hear static mixed in with their music. My fellow MVP, Werner "Menneisyys" Ruotsalainen, has had a lot to say on this issue, so I'll direct you to his write –up for more information on the topic.
The headphones can't overcome the physical limitation of not being inside the ear canal though, nor completely encasing the ear, which means very limited bottom end signal. Music that sounds best would include anything that relies more on sonic highs and mids – think Celtic and vocal music – but anything rock-related doesn't sound quite right, and you can forget about those drum and bass-only tracks. Because of the headphone design – hanging over your ears rather than going into your ear canal – these headphones are ill-suited for use in a noisy environment. I tested them in a variety of locations – sitting on my couch at home or in a library, the lack of noise blocking wasn't an issue at all. On a plane right next to a window? As they say in Brooklyn, "fuggedaboutit!"" – the noise level reduced my music to pure sonic mush, even at maximum volume. That's a problem that would plague any over-the-ear headphones though (including the horrible airplane headphones) and not a particular design flaw in the HDBT-700's.
The HDBT-700's can be purchased directly from Helium Digital for approximately $70 USD. The HDBT-750 is a $115 USD kit with headphones identical to the HDBT-700 but it also includes a Bluetooth adaptor that you can connect to any 3.5 mm audio jack to turn any device into a Bluetooth device.