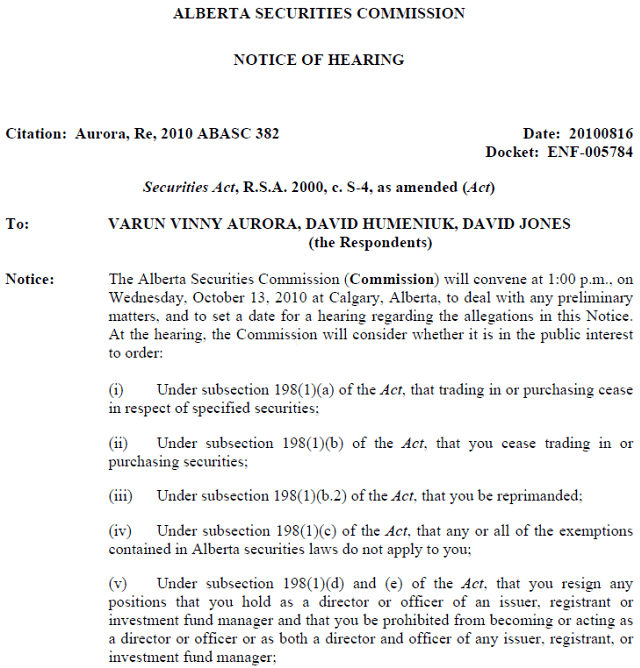 Wondering what happened to Varun "Vinny" Aurora, David Humeniuk, and Dave Jones? The Alberta Securities Commission has something to say. I quote:
"The Alberta Securities Commission (ASC) has issued a Notice of Hearing alleging Calgary residents Varun Vinny Aurora, David Humeniuk and David Jones breached Alberta securities laws by acting as dealers without being properly registered, making serious omissions and misrepresentations to investors and distributing various Concrete Equities Group entities' securities using offering documents not in compliance with Alberta securities laws.
In the Notice of Hearing, ASC staff allege that Aurora, Humeniuk and Jones, as directors and officers of Concrete Equities and multiple related companies and limited partnerships, made several serious omissions and misrepresentations by failing to fully disclose material, non-arms length contracts connected to the securities being sold and failing to disclose Humeniuk's lifetime withdrawal from the Real Estate Council of Alberta to investors."
The appeatence to set a date for the hearing will be held on October 13th, 2010, at 1 p.m. in the ASC Hearing Room on the 6th Floor, 300 – 5th Avenue S.W., Calgary, Alberta. I'm pondering going myself – I wonder if it's open to the public? The full notice of hearing document can be found on the ASC Web site, but I've also mirrored a copy of it here.
Here are some quotes from the document:
"…each of the Offering Memoranda relied on by the Offending Partnerships contained serious defects, misrepresentations and omissions, such that it did not comply with the requirements of NI45-106. As a result, the issuance and distribution of securities by each of the Offending Partnerships was an illegal distribution that did not comply with the requirements of Alberta securities laws."
…
"The failure to include reference to Humeniuk's lifetime withdrawal from RECA in the Partnership 1 OM constitutes a misrepresentation, as well as a failure of the Partnership 1 OM to comply with the required form."
…
"The Offending Partnerships collectively raised approximately $96,735,000, using the impugned Offering Memoranda referred to above. In total the Concrete Group raised over $118,000,000 through the issuance of securities to 3,723 investors."
…
"Prior to the Receivership Order, the shareholders of the Concrete Group received distributions of slightly under $5,000,000. This represents a payment of only roughly 4% of their investment principal."
…
"In contrast, prior to the Receivership Order, Concrete was paid over $15,000,000 in commissions as a result of the various Concrete Agreements. However, under the terms of those Concrete Agreements, Concrete was only entitled to commission payments of $10,107,750. Concrete was overpaid approximately $4.9 million."
…
"In addition to the commission payments to Concrete, Aurora, Humeniuk and Jones were also collectively paid over $8.9 million as directors of the various Concrete Group entities."

…
"In its Third Report of the Receiver, dated December 2, 2009, Ernst & Young Inc, as Receiver, concluded that "based on the information presented in this report it is clear that the directors of Concrete mismanaged the affairs on Concrete in material respects."
…
"It is uncertain what recovery, if any, will be made by the 3,723 investors in the Concrete Group of their collective $118,000,000 investment, and significant further recovery of their investments is questionable."
To any lawyer reading this, no statement made in this post can be considered libel; I am simply re-publishing publicly available information.