I have a long history with AudioEngine speakers; I first reviewed their A5 speakers back in 2007, and their A2 speakers in 2008. I've owned their A5+ speakers since 2011, having only recently retired them from use last year, and not by choice; we put a bigger TV in a spot where a soundbar was needed in front of the TV because we needed all the width of the mantle for the TV. The point is, I have a deep fondness for AudioEngine products so I had high expectations as I excitedly unpacked the box with the A2+ powered speakers. I have a tremendous ❤ for products that are red, so one of the reasons why I asked to review the A2+ speakers was because they game in this glorious red colour: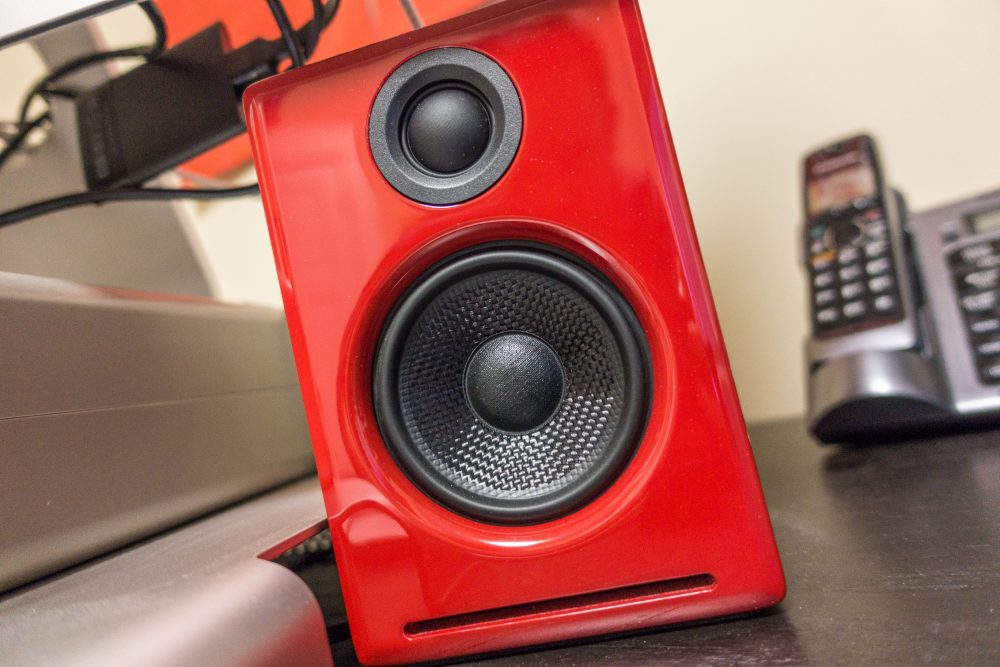 The speakers are available in satin black, high-gloss white, and the above high-gloss red. The photo above is slightly deceiving: it looks brighter in my photos than in the normal lighting of my office. Because it's so glossy, the colour pops depending on how much direct lighting they are in. Tucked beside and behind my iMac, they are a deep, dark, blood red.
In virtually every review of speakers or headphones, the writer will trot out obscure artists and tracks, trying to impress the reader with their musical pedigree. I shall do no such thing, and simply say that with the variety of music I listen to regularly from these speakers – pop, rock, a capella, country, orchestral scores – I am extremely impressed with how great the A2+ speakers sound. You're not getting booming bass here without hooking up a sub-woofer – that's a matter of physics, and these are small speakers – but when cranked up, these tiny powerhouses will move some serious air (you'll actually feel wind blowing strongly on you at higher volumes) and they sound quite full for their size.
Volume wise, listening at four pips of volume on my iMac has the speakers at about 62dB (measured with a sound meter at 16 inches away). It's what I consider a "comfortably loud" volume level – not quiet background, volume you can actually hear and appreciate the music. At 50% volume (8 pips) they'll hit 84db. At 100% volume (16 pips) they'll hit 105db – a volume level I find painful being so close and would never use, but if you're trying to full a medium-sized room at a party, you may need this volume. At max volume they hold up without distortion on every song I tested them with, and while I won't "song drop" I tested a live cover of "Superstition" with some heavy bass and at 100% volume it was smooth and (OK, OK, check the bass solo at 4:08 here).
Alright, here's the breakdown…
The good
The USB-based audio is rock solid and clean – I've had zero drop outs or issues…once I connected them directly to my iMac. When they were connected to an Amazon Basics USB hub, I'd hear bits of static every now and then. That same Amazon hub died on my after only a year, so I blame the hub and not the speakers.
It's fantastic to be able to control the full range of volume from my iMac – these are first speakers I've ever had that have used USB audio.
They've increased the shielding so the A2+ speakers don't pick up RF interference from nearby phones (my A2 speakers are extremely susceptible to this problem). The only interference I've heard was when I put my WiFi router about four inches away from the speakers. I moved it 10 inches away and all is well.
Incredible build quality means they will last for years (I have working AudioEngine speakers from 10+ years ago).
Multiple inputs and outputs makes for flexibility with multiple device (RCA input, RCA output, 3.5mm input, and USB output). They can be paired with a Mac or Windows computer, a record player, some TVs, a phone or MP3 player, etc.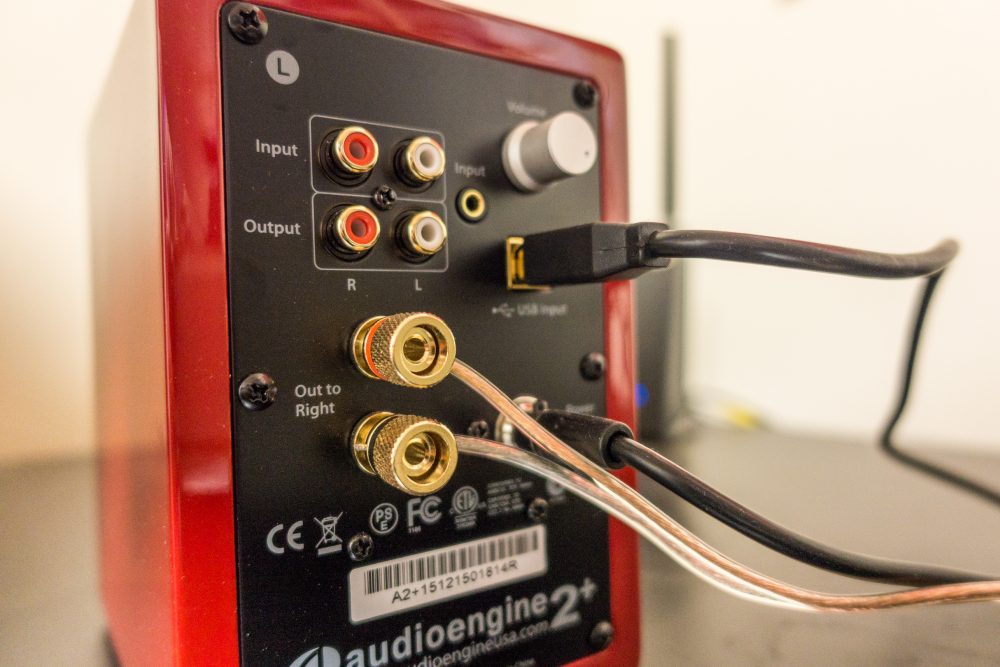 The bad
$249 is a significant investment – these are not budget speakers in any way, and AudioEngine rarely has significant sales – but see above about how long these are likely to last and consider them a long-term investment.
There's no optical input if that's something you need.
They might not work properly through a USB hub, so you'll need a free USB port on your computer.
They make a somewhat loud "pop" when I reboot my iMac – I'd assume some initialization of the USB audio.
The rear-mounted volume knob can be awkward to get at depending on where your speakers are located (and this is only a negative if you're using the analog inputs – if you're using them via USB, you can control the audio via computer).
If you've got a laptop with only USB-C ports you'll need an adaptor or different cable.
The summary
I am exceedingly happy with my purchase of these speakers, and with free shipping and a 30 day evaluation period, these are easy to evaluate and decide if you want to keep them. They look glorious, they sound glorious, and while $249 is a significant investment in a world of $50 2.1 speaker systems, they are a worthwhile investment that will give you great audio for years. I reccomend them highly!