I got my hands on my first Android phone a couple of weeks ago – an HTC Incredible S – and it was of the Euro/Asia 3G frequency variety. That means I wouldn't be able to use it on the Rogers network here in Canada. I really wanted to test this phone out though, so I figured a relatively easy option would be to get a SIM card from Wind – they happen to operate on the 1700/2100 frequencies – and simply forward my old cell number to this new number. Seemed simple enough, right?
When I got home though and put the SIM into the new phone, I was impressed at how everything was automagically configured. Within the first day though, I noticed something really weird: my device said I was roaming. On Android – or on this Android phone at least – every time it happened I'd get a pop-up window I'd have to dismiss three times. I decided to call Wind today to ask them if this was normal, and they directed me to their coverage map…and I was surprised by what I saw.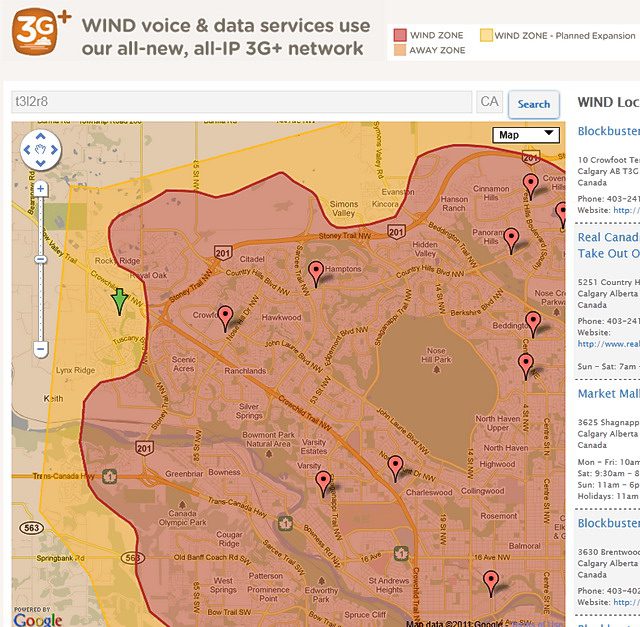 That little green arrow? That's me. Yes, the community I live in is on the western edge of the city, but it's still part of Calgary and the Wind Mobile coverage ends about 2 KM from my house. Because I'm on the edge of the coverage, it sometimes works, but not reliably so. When I bought the Wind SIM I knew I was buying into an urban wireless network, but I thought for sure they'd at least cover the entire city. Nope.
The good news is that I'm in the planned expansion area – the yellow is where they expect to expand to by the end of the summer.