My faith is very important to me – it's a cornerstone of who I am as a person. And, if my son or future children choose to follow in that faith, I wanted to have something to give them at the end of my life that was a physical reminder of the path that I followed. I wanted to create something unique, and something that would last for generations. Titanium seemed like the best choice for that – it's an extremely durable material that should last for a very long time. I did a lot of research, spending hours looking at different online jewellery sites, and I decided to use Titanium Workshop, settling on their Celtic Cross design (I'm of Scottish decent). They had some nice enamelling options, so I selected red and opted for the satin brushed texture. I also had them do some custom engraving on the back. Below is the end result: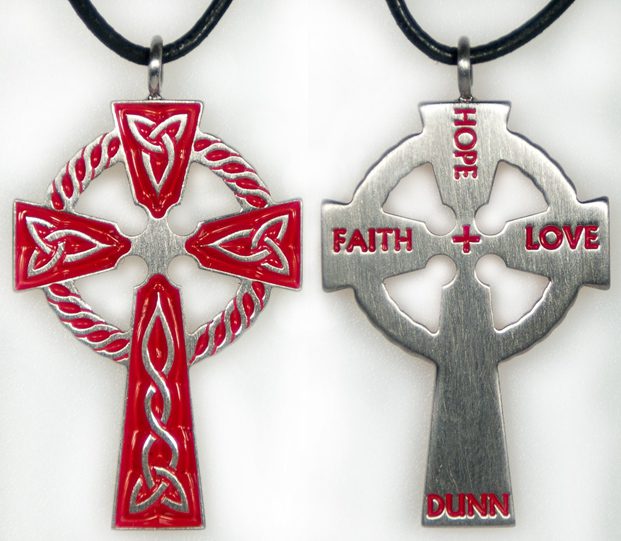 The custom engraving on the back was an extra charge, but I think it adds a lot to the piece – it makes it unique, which is what I wanted. The staff at Titanium Workshop were great about answering questions I had, providing me with a render showing the red enamel, and allowing me to submit an incredibly poorly hand-drawn sketch and understanding exactly what I wanted.
When the cross first arrived, I was extremely impressed with the quality of the enamel and custom text; it looked great! There were two small issues though: the first was that there was some sort of material in the upper right-hand corner on the front. I had no idea what it was, but I didn't want to start picking away at it. The other issue was that the front of the cross had the stain (brushed) texture, which looked amazing. The back though had a mirror-like finish, which I wasn't expecting. I contacted Titanium Workshop and their excellent customer service people offered to fix both issues if I sent it back. I did, and within a few days of them receiving it, I had the cross back in my hands. I'm extremely happy with how well it turned out, and have my eye on ordering another product from them – just as soon as I can confirm 100% which Scottish clan I'm descended from…which is proving to be more difficult than I thought. But that's a story for another day…
UPDATE: After having this cross for a few years, I was travelling in New York and changed out of my work event clothes into my street clothes in a bathroom before boarding an airplane…and lost the cross. I was very upset about losing it, and to make matters worse, the company who made it for me no longer offers this product. Apparently there was one craftsperson who did this type of enamelling and not only did he leave the company, they have no idea how to contact him. I went all-out trying to recover the cross: I contacted various people at the airport, and even local pawn shops. Nothing worked. As recent as early 2018 I emailed half a dozen different companies with the above photos, asking about re-creating it, and would you believe that not one is able to do so? The red enamel coating is the problem – some can get "red-ish" but not what I'm looking for. Who knew that when I created this as an heirloom it really would be a one of a kind item that I couldn't get created again? ????