The Epson-ET3760 is a decent printer, but it's hobbled in a few ways that keep it from being an exceptional product. It was more a bit more expensive ($279 + tax on sale from Costco.com) than a comparable HP printer, but Epson makes less on the ink so it's expected that you'll pay more in hardware costs. It's a "pay extra for the razor because you won't need to buy as many blades" scenario. The bundle I bought from Costco included two extra black ink bottles, so I expect to not need ink for several years. Epson touts costs as low as 1 cent per ISO colour page.
The print quality is crisp – no complaints there. Compared to my HP though the colours are muted and don't pop as much. Colour accuracy is significantly off as well. Red is more orange, blue is more grey, yellow is more orange. This means, unfortunately, that all that cheap ink you're getting doesn't measure up to what you get on an HP printer.
There are a few things modern inkjet printers need to get right, and reasonable colour accurate is one of them. The Epson-ET3760 missed the mark here. Just to be sure this wasn't an isolated incident, I printed a photo portrait of my lovely 🥰 wife on both the HP and Epson printers. The same colour accuracy issue occurred; both printers were set to max print quality using glossy photo paper.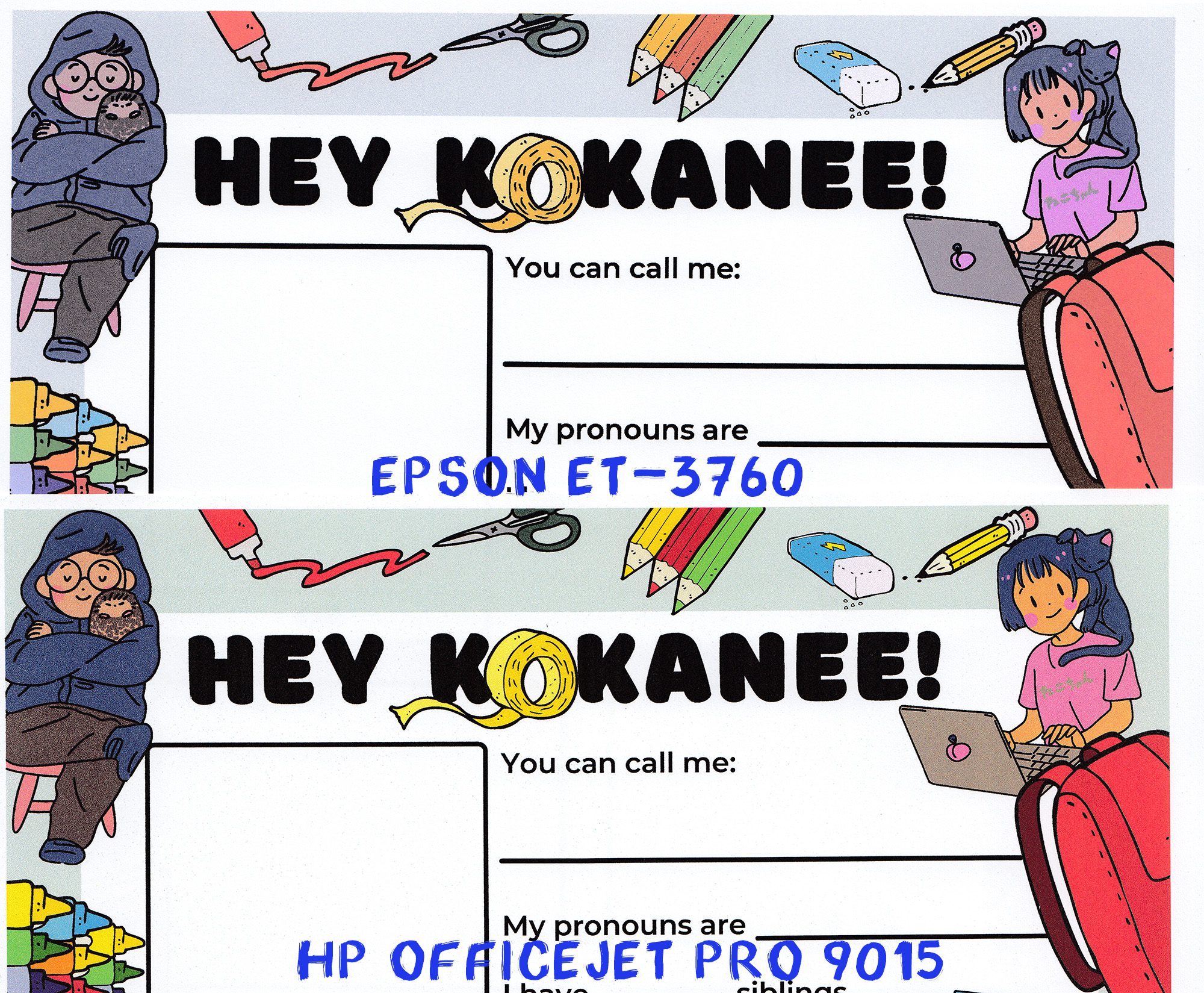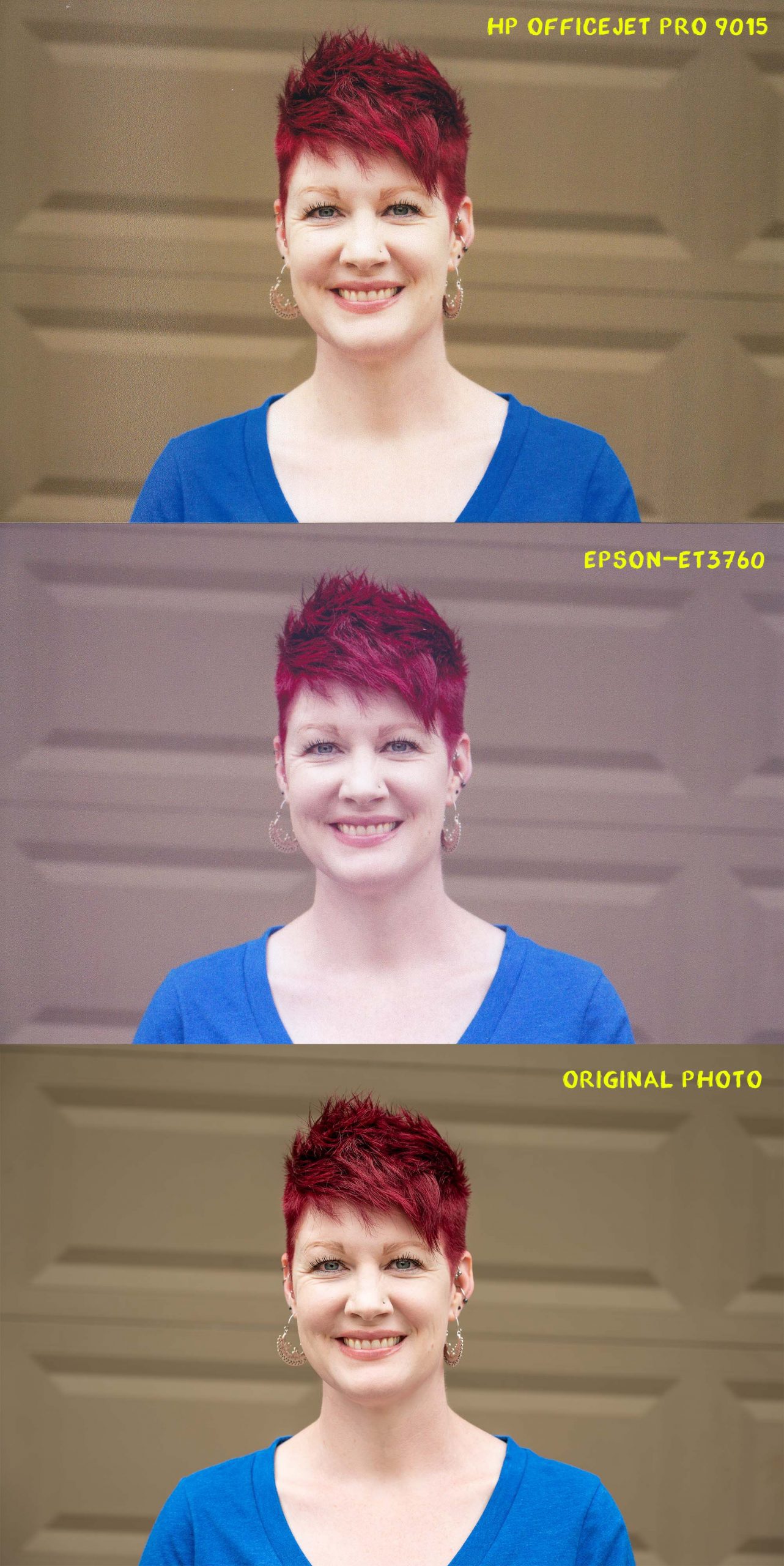 In terms of other features, the Epson-ET3760 has everything you'd expect, including easy wireless printing from Apple and Android devices, and the ability to scan documents directly to email (which I have configured to go right into Evernote). It can copy/scan double-sided originals, and it's reasonably fast and quiet.
The big knock against this printer once you get past the colour quality is the interface on the printer — it's incredibly cumbersome to use because there's no touch screen, so you have to click around with buttons and select on-screen options. The way things are laid out is utterly unintuitive; it was clearly designed by someone without any usability training. Epson has spent zero dollars in making it easier to use for customers; every time I use it I feel like I'm solving a puzzle.
A perfect example of this lunacy is a firmware update: the printer will tell you when there's a firmware update (nice!), but it won't offer you a button to click to do the update (not nice). Epson expects you to dig around in the systems menu to find the firmware update option (and it's not obvious). This is ridiculous, but somehow Epson's product people think this is an OK solution. 🤦🏻‍♂️
One of many reasons why so many people hate their printers is because they just don't work in an intuitive fashion — the companies making them can't be bother to put in any effort to make something usable by real humans. Epson put the minimal possible effort into the usability of this product. It makes HP printers look like they're designed by UX geniuses (and they have their own frustrating quirks).
Despite the negative points around this printer, I decided to keep it as a general family/kids printer. It was more reliable than the aging Canon inkjet it replaced. If you want a printer that makes very affordable prints per page, you don't care much about vibrant colours (or colour accuracy…at all), and you don't need to use the physical functions on the printer itself very often, this is a good choice. How's that for damning with faint praise?